Domain Auctions
Sell to the highest bidder.
Quickly and easily auction off as many domains as you want on our marketplace. Particularly valuable domains garner top prices in our monthly GreatDomains auctions or our themed auctions.
Your benefits
Three auction formats to choose from: Direct Auction, Marketplace Auction with selling guarantee and GreatDomains Auction
The largest number of interested buyers worldwide: every second domain sale is completed using Sedo
Just 15% sales commission for a completed sale
Free Transfer Service included
Flexibility or a selling guarantee - You decide.
Direct Auction
Start an auction whenever you want
Start a Direct Auction and auction off your domain whenever and however you desire: In contrast to other auction formats, application phases or opening bids are not required.
With a Direct Auction, it is entirely up to you when you auction off your domain and what the minimum price will be. Simply select the starting time and the desired minimum bid and you're done. On matching keyword terms your auction will appear in our domain search and on your very own personal auction page. Towards the end of the auction it will even be shown on the Sedo homepage!
Flexibility: Start auctions for up to 10 domains at any desired time
Maximum exposure: Displays on the Sedo homepage, in search results and on your personal auction page for seven days
Full control: You set the desired minimum price – and pay a sales commission only upon successful sale
Free transfer and escrow service included
Marketplace Auction
Auction domains with a guaranteed sale
When you add a domain for sale as "Make Offer", as soon as you receive the first offer you can release the domain to auction – with a sales guarantee!
The original offer is automatically taken as the opening bid and minimum price. During the remaining auction period, interested parties can still place higher bids. Biggest takeaway: Since the initial bidder has already committed to purchasing the domain for the minimum price, your auction is guaranteed to end with the sale of your domain!

Change from "Make Offer" price to an auction – for up to five days after receipt of the original bid on your domain
Guaranteed to sell to the first bidder at the minimum price – and a prospect of even higher bids during the auction period
Maximum attention: Display in search results, on your personal auction page and then towards the end of the auction, on the Sedo homepage.
Free Transfer Service included
Selling my domain in a Direct Auction worked out wonderfully. I was surprised by how many bids I received!
My Top Domain was accepted for the GreatDomains auction and even appeared in the Sedo newsletter. I was so pleased!
After my asking price had already been reached through negotiation, I started a marketplace auction. The additional bids gave me a really nice profit!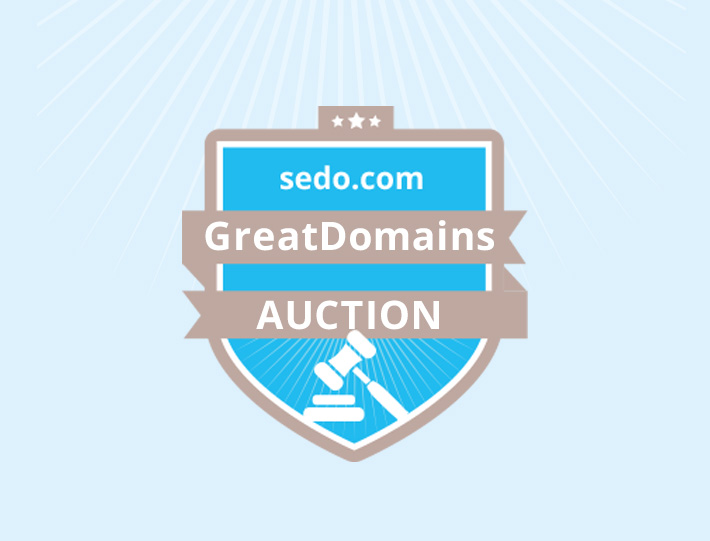 GreatDomains Auctions and Themed Auctions
The best prices for your Premium Domains

Our expert Brokers and Sales Team facilitate both bi-monthly GreatDomains auctions and special themed auctions throughout the year.
In the GreatDomains auctions, you can promote up to five of your most attractive domains – and take advantage of even more exposure and earn higher sales revenues. With our exclusive themed auctions, put your best domains up for sale, highlighting them more effectively through a targeted auction focused on a particular vertical.
Submit domains
Please follow the terms of participation specified below. Our professional broker team will review your proposed domains within five business days.
How to apply for Sedo's GreatDomains Auctions
Important criteria and instructions for participating in our bi-monthly GreatDomains Auction
The domain ending (TLD) of the domain is a premium TLD and has achieved high-priced sales in the past (such as .com, .net or .co.uk)
The domain describes an existing product or service. Examples: car.com, creditcard.com or insurance.net
High SEO relevance: Words in your domain title achieve a high number of hits in search engines
The domain does not violate any third-party rights (such as brand rights, copyrights, or names of famous personalities)
The domain ending matches the language of the domain title (such as auto.de or car.com)
The search terms matching the domain have a high Cost-per-Click (CPC)

The domain is easy to spell and not susceptible to typos
The domain is short, consists of a real word, and is easy to remember. Such as book.com, creditcard.com or car.com
Only generic and high-quality domains are eligible for auctions. It is up to the discretion of our domain brokers whether your domain is accepted in the respective auction format.
Submit domains through your Sedo customer account, in the menu item My Sedo, Domain Management. Once submitted, our brokerage team reviews submissions against our criteria. Please note, domains under review cannot be put up for sale during this review phase (around 3-5 days).
Important information: With the GreatDomains auction application, you are authorizing that your domain will be publicly offered for sale and marketed solely by Sedo and its affiliated platforms for up to 60 days after the auction. This stipulation becomes null if and as soon as your domain has been refused for the GreatDomains auction.
Frequently asked questions (FAQ)
You will find the most frequently asked questions about our auctions here.
Individual service to help you sell your domains
Find out how much your domain is worth!
List your domains with our partners!